Peanut Butter Factory for Area Food Banks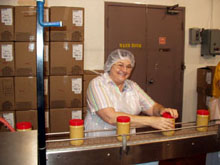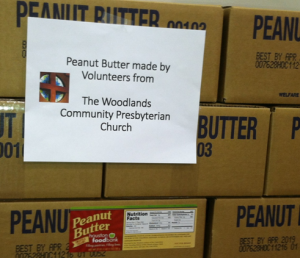 Annually, WCPC provides volunteers for a half-day of peanut butter making for either the Houston or Montgomery County Food Bank. There are a variety of jobs along the production and assembly line, all with on-site training provided. We generally carpool from the church parking lot or you can meet us there.
6,048 Jars of Peanut Butter!
On Thursday, April 21, 2016, twenty members and friends of WCPC traveled to the peanut butter cannery in Houston (in The Church of Jesus Christ of Latter-Day Saints' Welfare Complex) to make peanut butter.
Great job WCPC volunteers!
If you missed this mission outreach opportunity, be on the lookout for the next opportunity to volunteer or contact Donna or Bob to stay informed on this amazing project.
Advocate:
Donna and Bob Frederick
936-271-7427
Or, contact Michele Stelter, Mission Outreach Facilitator, mstelter@wcpc-tx.org or 281-363-2040, Ext. 7 for more information.