Community Assistance Center (CAC)

The Community Assistance Center provides resources to meet basic needs and improve quality of life for our neighbors in Montgomery County. They strive to build strong relationships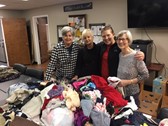 with their clients and their families by doing an individualized assessment of their specific needs during a time of instability.
Volunteers make it possible to reach many neighbors in need.
WCPC routinely organizes opportunities to support a variety of CAC programs throughout the year. For more information on the Community Assistance Center, click here.
WCPC supports the Community Assistance Center through the Benevolence budget and provides supplies and volunteer help on an ad-hoc basis. Watch future WCPC publications and the MOT Bulletin Board for volunteer opportunities.
Mission Outreach Team Bulletin Board