Wednesday Morning Study Group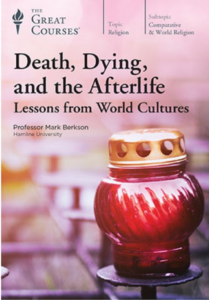 24 Sessions – Beginning September 13
Death, Dying, and the Afterlife: Lessons from World Cultures
A Great Courses Lecture Series
While we're predisposed to look on death with fear and sadness, it's only by confronting and exploring death head-on that we can actually embrace the important role it plays in our lives. Death, it turns out, is a powerful teacher, one that can help us
think responsibly and deeply about the meaning and value of life;
connect with the beliefs and traditions of cultures and faiths different from our own;
gain the wisdom and guidance to live a richer, more fulfilling life while we have it.
24 Sessions, beginning September 13
Hendricks Building Room 301
Leadership is shared.

Everyone welcome

!
Come join us for some rich conversations.
This is an ecumenical weekly adult study group meeting
each Wednesday in Room 301
of the Hendricks Education Building @ WCPC from 10:00 – 11:30 am.
Discussion leadership is shared.
For more information, contact the Wednesday Study Group facilitator,