WCPC is a Creation Care Congregation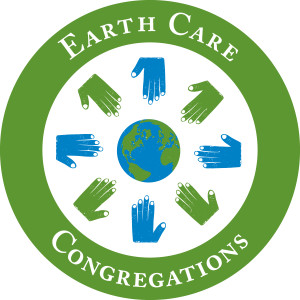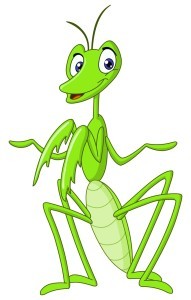 This is our friend W.C. Peezy, the official Praying Mantis for the Creation Care Team. Visit his Blog.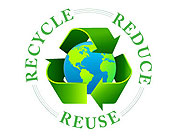 Once again the Creation Care Team is sponsoring an art show each Sunday in April.
This year's theme: "Everyone's Environment."
Artists should submit a picture of your art work, the medium, and the title by email or text to: Peggy Hendricks, pphendricks@yahoo.com or 281-239-5989 by MARCH 15th. All types of art are welcome!
Check the Weekly Life of the Church or the Newsletter for Scheduled Prayer Garden
Work Days
Meet at the Gazebo for fellowship, coffee, & gardening
Everyone is welcome to JOIN THE FUN as we give the Prayer Garden a face lift and prepare it for springtime!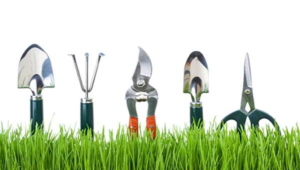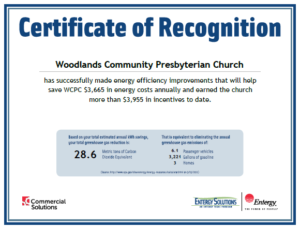 If you want to be a part of the important work of the Creation Care Team, contact Cinda Hitchcock (713-542-8245 or cchtx@att.net).
WCPC Awarded Energy Rebate
Our congregation has again been awarded an incentive payment for the energy savings we are accomplishing with the installation of three new higher efficiency HVAC units. This $3,955 rebate brings the total incentive
payments WCPC has received to almost $13,000 over the last couple of years. These efforts reduce carbon emissions as well as other pollutants emitted by power plants that provide our electricity. In addition to these payments, we are reducing our electricity bills.
More importantly, saving money by reducing harmful emissions means we also have more financial resources as a church community to invest in the mission of the church. The Creation Care Team initiated these improvements through the process of becoming an Earth Care Congregation, which provided the structure for us to consider more closely our creation care actions and facilities. Lighting was our first target followed by heating/air conditioning. We are currently testing new WIFI thermostats on the six Sanctuary units. (Jan 2017 WCPC Newsletter)
Creation Care team
WCPC is an Earth Care Congregation. Creation Care Congregations have committed to the defense and healing of creation. Caring for God's world takes a lot of work! Check out the projects underway by this committee of the Session. If you wish to get involved in keeping our church green, helping to educate our church families and improving our community, this is the committee for you!
The Creation Care Team is responsible for conducting the annual audit of WCPC's earth care actions for recertification as an Earth Care Congregation by PC (USA). In consultation with worship, education, facilities and outreach leaders, the team develops a list of environmentally responsible actions to be undertaken in the next year. Team members may work with the leaders to implement such actions and to develop new initiatives.
LINKS FOR MORE EARTH CARE INFORMATION
A Call to Engagement: Faithful Responses to Climate Change (Oct 2, 2015)
Activities of the Creation Care Team
Lighting Audit
Campus wide lighting replacement with LEDS
Energy Audit, particularly HVAC
Month Long Nature Art Exhibit
Community Clean-up/Green-up Day
Adopt-a-Path Clean-up West Panther Creek
Hosted Creation Care Sunday
Sponsored Bike to Church Sunday
Revamped and expanded recycling
Turned off irrigation system for more than six months
Reviewed yard and kitchen consumables (non toxic recyclables, etc.
WCPC Adopt a Path group with the "fruits" of the cleanup.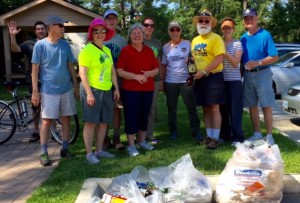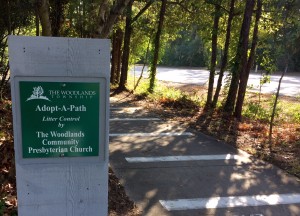 WCPC Adopt a Path group successfully cleans up West Panther Creek Path from Woodlands Parkway to Lake Woodlands Drive at least 4 times a year. Be on the lookout for an opportunity to sign up to join in the next cleanup.