More about Composting Opportunities on the WCPC Campus below.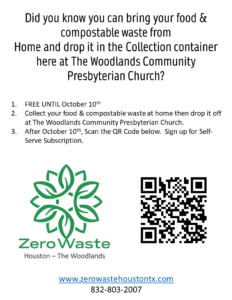 The Woodlands Community Presbyterian Church is a caring family where ALL ARE WELCOME. We welcome seekers, doubters, as well as those sure in their faith. We are an inclusive congregation that welcomes into its membership and leadership all persons who profess faith in Jesus Christ regardless of race, age, gender, disability, sexual orientation, or economic status. We invite YOU to join with us in ministry, service and mission, and fellowship. Questions?
Please contact one of our pastors.
The WCPC Family Invites you to join us for
in person worship each Sunday
or the PCUSA Daily Prayer App
Helpful Links to Stay Connected
During this time to give/receive
assistance or for resources visit:
The Woodlands Community Presbyterian Church
4881 W Panther Creek Drive
The Woodlands, Texas 77381
281-363-2040