WCPC – Reaching Out as Servants in God's World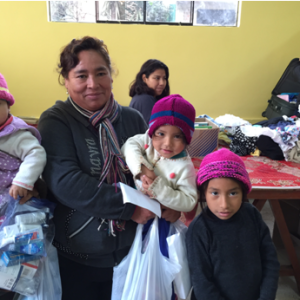 If you have any questions please contact either Michele Stelter at
281-363-2040 x 7 or Gary Chapman at 281-361-5779.
2018 Peru Mission Trips
Plans are underway for mission trips to Peru in 2018.
WCPC will join FPC Kingwood in their medical, construction,
and VBS missions to the barrios of Lima, Peru.
Project: Medical Examinations & Prescriptions in
La Molina
Project: Vacation Bible School in
La Molina
Project: Construction in
San Genaro
Dates: TBA
All trips are open to high school graduates & older. Space is limited and some scholarship money will be available.
Our Peru Partnership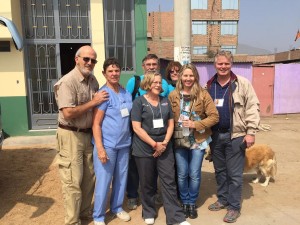 In addition to partnering with other Presbyterian churches to provide medical clinics and VBS programs in the barrios of Lima, WCPC is developing two partnerships in the highlands of Peru, one with Iglesia Evangelica Presbyteriano in Ayaviri and one with the Sicuani Biblical Seminary in Sicuani.
WCPC continues to grow our outreach and mission partnerships in Peru. Our medical team was in Carabyllo last summer working in the medical clinic, assisting a local optometrist fitting prescription eyewear, and also helping to fit reading glasses. Our VBS team was in Pachacutec helping to lead Vacation Bible School with their church. During the second week, the two teams swap locations.
For more information, please watch upcoming publications or contact
Advocate: Gary Chapman
281-361-5779
gary.chapman5206@gmail.com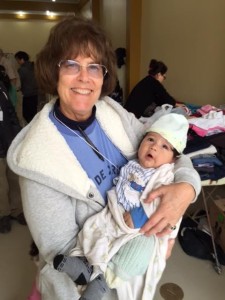 Happily helping out in the clinic.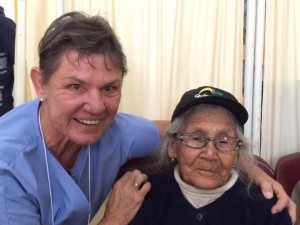 This 88 year-old is happy with her new readers.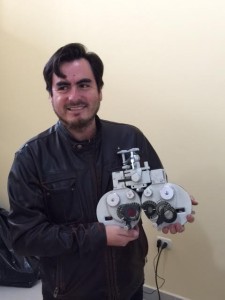 Local optometrist works with the mission team to fit prescription glasses.
Africa Partnership Group
WCPC continues a thirteen year partnership in Zambia with The Justo Mwale Theological University College, the Namumu Orphanage Centre, and the United Church of Zambia Siavonga.
Advocates: John and Nancy Hathaway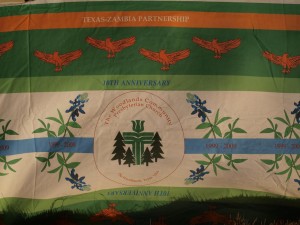 Adventure is out there…and so is Mission!
While you may recognize some of these words from the Pixar movie "UP," many of us at WCPC have learned over the past 17 years that adventure and mission await us in Zambia, a country in southern Africa. It is there that we have 3 partners, the United Church of Zambia Siavonga Main Congregation, Justo Mwale University and the Namumu Orphanage Centre, which we have tried to visit every few years during a mission trip.
Since 2002, as part of our support of Justo Mwale University, we have provided a scholarship each year for a deserving seminary student. We have supported Rev. Chizason Chunda (2003-2006), Rev. Lazarus Chilenje (2007-2010), Rev. Lovemore Nyirenda (2011-2013) and for the past three years, Tommy Banda . Representatives from WCPC have been able to attend the graduation ceremonies of our first three scholarship recipients. In keeping with this tradition, we are planning a mission trip to Zambia around the May, 2017 graduation of Tommy Banda, our fourth scholarship recipient.
If you would like to participate in such a trip or are curious about such an adventure, please contact John or Nancy Hathaway at 281-367-8792 or john_hathaway@yahoo.com or nancy_hathaway@yahoo.com.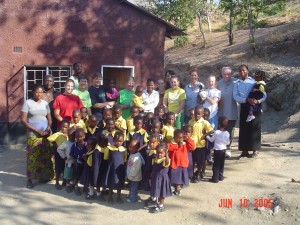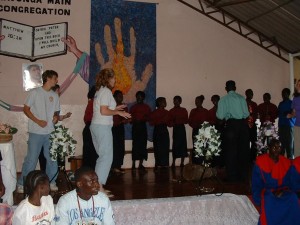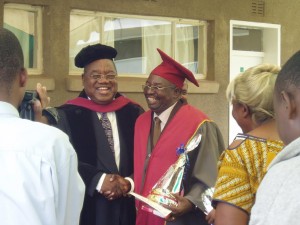 Most years WCPC sponsors at least one adult or inter-generational mission trip or we host a visiting mission team. WCPC also seeks to work with Presbyterian Disaster Assistance providing work teams as the need arises.