ESL – Mission at Our Doorstep
Beginning September 2015, our ESL children's program, which consists of two classrooms and four wonderful teachers, will return to the WCPC campus. We will be providing free childcare, education, and enrichment opportunities for toddlers and preschool aged children while their parents are attending English as a Second Language (ESL) classes.
Mission at Our Doorstep
will take place on the WCPC campus in the Hendricks Education Building. If you love mission work and love children, please contact
Carol Palmquist
at 281-367-5166.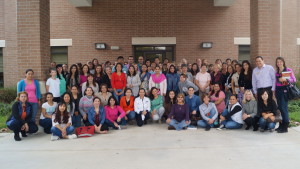 ESL Participants – Fall 2015
Michele Stelter, Mission Outreach Facilitator at mstelter@wcpc-tx.org or 281-363-2040, Ext. 7