Children's Wednesday Afternoon Music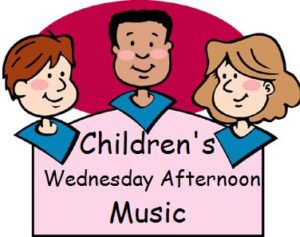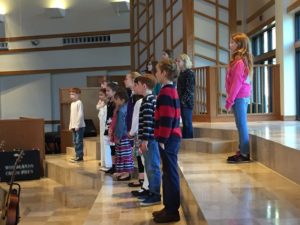 Schedule resumes Sept. 2021
Wednesday Afternoon Music (WAM):
Hand Chimes for Elementary 2nd -6th grade children
Angel Voices (4 years-2nd grade) – room 301b
Angel Voices sing the 2nd Sunday of the month,
Cherubs will join them when they are ready.
Alleluia Choirs – (2nd-6th grade)room 305
Alleluia choirs sing the 4th Sunday of the month.
All these choirs meet in the Hendricks Building
Dinner in Fellowship Hall When food service is permitted
5:55 Gather in Welcome Center for Prayer
During and after dinner children and youth under the age of 18 need to remain in the Fellowship Hall under the supervision of their parents. Because we are inside and as a courtesy to other diners, no running or screaming is acceptable in the Fellowship Hall.
6:45 Children over the age of 6 are encouraged to assist in cleaning up after the meal. Children are asked to wipe down tables, wipe off chairs and help pick up plates, cups, trash, and silverware left on the tables. Clean up supplies are located next to the dish and silverware tubs on the back wall.
Childcare is available for parents helping with the kitchen clean up team. RSVP to Susan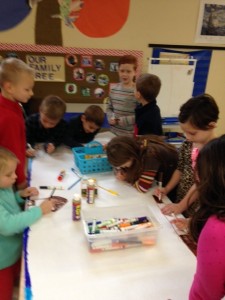 Sunday school class working on a mural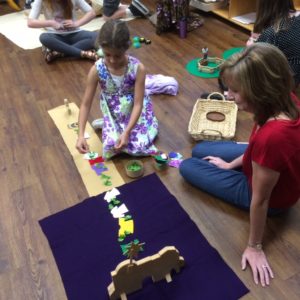 Godly Play Classroom